Pastors
Bishop Alfred Johnson – Lead Pastor
Pastor Bishop Johnson came to our church in 2005, appointed to lead the church as it made its transformation from three congregations into one. Having been a retired Bishop of the United Methodist Church, Bishop J. (as we call him) returned to active ministry to answer our call for a dynamic, visionary leader who would unify our congregation and take us in a new direction. He has a been ordained and serving as a full time pastor in the United Methodist Church ministry since 1975, serving in many leadership roles in the Philadelphia, New Jersey and New York area. He received degrees of: Associate in Arts, at Community College of Philadelphia; Bachelor in Arts (Sociology and Social Welfare), Albright College, Reading, PA; Masters of Theology from Boston University School of Theology (Pastoral Care), Boston, MA; and, Doctor of Ministry in Urban Ministry at Wesley Theological Seminary, Washington, D.C. He also has been awarded two honorary doctoral degrees in Divinity (DD), and in Humane Letters (LHD) from Albright College, and Centenary College, Hackettstown, NJ, respectively. He was elected and consecrated as Bishop in July1996, and assigned the New Jersey Episcopal Area. He retired from that assignment in 2004. He currently serves on the Leadership Development Committee of the Council of Bishops; as the NEJ (Northeast Jurisdictional)College of Bishops episcopal liaison to the NEJ Urban Steering Network, and, as a Research Professor in Urban Ministry at the New York Theological Seminary in New York City.
A staunch "Philly fan," an inexhaustible "Star Trekker," and an occasional "racquetball player," Bishop J enjoys his marriage to the Reverend Sherrie Boyens Dobbs Johnson, a United Methodist Pastor in Englewood, NJ, and a professional writer.
BishopJ@churchofthevillage.org
,
Rev. Vicki Flippin – Associate Pastor
Rev. Vicki Flippin is the Pastor of Social Justice, Exploring Faith, and Inter-generational Ministries at The Church of the Village, a progressive, multi-racial, and Reconciling United Methodist Church in Manhattan. A graduate of Yale Divinity School ('08) and the University of Chicago ('05), Flippin has served previously as senior pastor at Diamond Hill UMC in Connecticut, which joined the Reconciling movement during her tenure. She currently serves in leadership roles in the New York Annual Conference's Commission on Religion and Race and Methodists in New Directions, working for both racial and LGBT equality with equal fervor. A proud signer and clergy recruiter for her conference's Covenant of Conscience, she is committed to the practice of marriage equality in the UMC. Rev. Flippin has close family and church ties to both Taiwan and the American Midwest and currently enjoys life in New York  City with her husband, daughter and two eccentric cats.
PastorVicki@churchofthevillage.org
Chris Jorgensen – Student Minister
Chris Jorgensen is a 2nd year Master of Divinity student at Drew University in Madison, NJ. She and her family (partner Matt and daughter Ruby) relocated to Madison from Omaha, Nebraska in 2012, so that they could put out their nets in the deeper waters of the greater NYC area. Chris has a BA in English from Central College and an MS in Library Science from the University of Illinois, which have both come in quite handy in her seminary studies. Professionally, she has worked as both a librarian and academic administrator. She is excited that God is calling her to learn more about urban ministries, progressive evangelism, and how to pastor effectively in a fantastically diverse community that is a reflection of God's kin-dom. She is especially proud to be a member and associate  member of two Reconciling Congregations who are committed to the full inclusion of LGBT persons in the UMC: First United Methodist/Urban Abbey of Omaha and here at COTV! 
Chris.Jorgensen@churchofthevillage.org
Juliana Bateman – Student Minister
Juliana Bateman is a third year Master of  Divinity student at Union Theological Seminary. Juliana hails from Oregon but has been on the East Coast since 2007. She received her BA from Seattle University in 2006, majoring in Theology and Religious Studies and minoring in Global African Studies. Before she moved to New York, she was an active member of Foundry UMC in Washington, D.C, another radically diverse, welcoming, and progressive community. While in DC she lived and worked, at Miriam's House a community residence facility for formerly homeless women who are HIV+. She is currently discerning the call to ordained ministry in the UMC as a openly gay woman.
Ministers-in Residence
Rev. Dr. Arthur L. Pressley
Rev. Dr. Arthur L. Pressley, Associate Professor of Psychology and Religion at the Theological School and Graduate Studies, Drew University, Madison, NJ.
Rev. Dr. Althea Spencer-Miller
Rev. Dr. Althea Spencer-Miller, Associate Professor, New Testament Studies, at the Theological School and Graduate Studies, Drew University, Madison, NJ. Dr. Althea Spencer Miller, a Jamaican is currently Assistant Professor of New Testament Studies at Drew Theological School. She was ordained a Presbyter in the Methodist Church in the Caribbean and the Americas in 1994 after graduating from the United Theological College of the West Indies and the University of the West Indies. She received a Th.M and Ph.D from Candler School of Theology and Claremont Graduate University respectively. Her interest in biblical interpretation for liberation has led her to embrace contextual and postcolonial biblical interpretation and to query and understand the historical role of the Bible in the way that Churches addresses and addressed social issues. She is developing a record of publications, e.g. Feminist New Testament Studies: Global and Future Perspectives, co-edited with Kathleen O'Brien Wicker and Musa Dube. More recent publications include "Women and Christianity in the Caribbean: Living Past the Colonial Legacy" an essay in Women and Christianity, co-edited by Cheryl A. Kirk-Duggan and Karen Jo Torjesen and "Rethinking Orality for Biblical Studies" in  Postcolonialism and the Hebrew Bible, edited by Roland Boer. She is also keen to do work that connects the academy and the church with innovative approaches to biblical interpretation.
spencer@drew.edu
Rev. Jan F.  Selby
Rev. Jan F. Selby, BA, STM &  MSSW, has been on location as an Ordained Elder in the New England Conference and an active member, formerly of the Metropolitan Duane and now The United Methodist Church of the Village, since 1968. His focus continues to be on pastoral counseling." selby@nyc.rr.com
Rev. Dr. Gerald Liu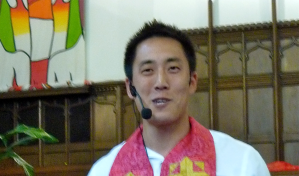 Rev. Dr. Gerald C. Liu is an ordained Elder in the Mississippi United Methodist Annual Conference and Assistant Professor of Homiletics and Worship Arts at Drew Theological School in Madison, NJ. Previously he taught at Louisville Presbyterian Theological Seminary, Andover Newton Theological School, Belmont, and Trevecca Nazarene universities. Born in Jackson, Mississippi he is the third and youngest son of culturally Buddhist immigrants from Taiwan.