Holy Week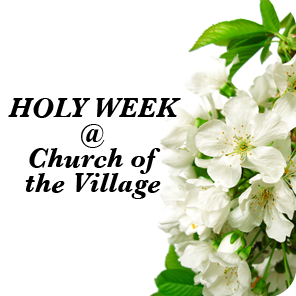 Palm Sunday Worship (Sunday, March 29, 9:30 A.M.):
Process with palms through the Village at 9:30 A.M. We will be meeting at the Gandhi statue (near 14th St. and Union Square West). Then we'll be walking to COTV as we wave our palm branches.
If that is not for you, simply join us at the church for worship beginning at 10:30 A.M.
Maundy Thursday "At Table" Worship (April 2, 6:30 P.M.):
Remember Jesus' last meal with his friends with an ancient "At Table" worship service, as we eat a candlelit meal and seek an experience of worship similar in style to that practiced by the early disciples. We will engage in dialogue, read scripture, sing, and pray. The night will culminate with sharing communion and foot washing.
Good Friday Worship (April 3, 6:30 P.M.):
Meditate on the crucifixion of Christ with a service of song and silence in the tradition of Taizé. The evening's worship will also include participation by our Dance Choir.
Resurrection Sunday/"Celebrating the Lord of the Dance" Worship (April 5, 10:30 A.M.):
Rejoice in new life and the victory of God at our Easter celebration featuring the Church of the Village dancers and choir!