Arts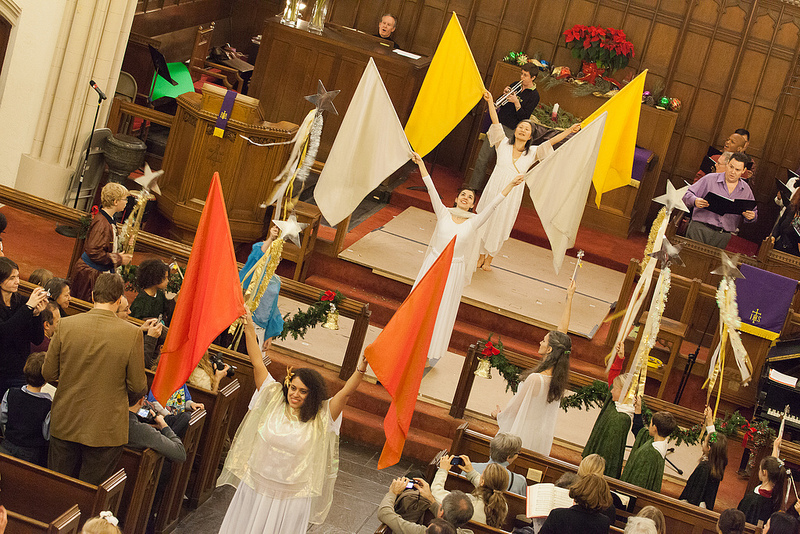 Choir and Music
Our Director of Music, Faser Hardin, is a versatile virtuoso. He guides the hoir in many styles of music, from classical church sounds to spirituals, contemporary, jazz, and even bluegrass. Rehearsals are Thursdays at 6:30 P.M. and Sundays at 9:15 A.M. During the summer the choir doesn't rehearse, but newcomers are always welcome. If you love to sing or play an instrument then contact Faser to join.  faserhardin@churchofthevillage.org
Dance Choir
The Joyful Noise Dance Choir uses drama and dance to fully and joyously lift our spirit. Trained and non-trained dancers, children, and adults are welcome to join one of our special performances. From tap-dancing sheep at our annual Christmas pageant to sacred dance for Holy Week, we 'make a Joyful Noise unto the Lord!' Contact Martha Chapman to find out more. danceministries@churchofthevillage.org
Majestic Praise
Majestic Praise is a fresh, bold, multi-talented ministry that was established by church members Nathan and Evelyn Bunce in 2008. This is a progressive group that celebrates God's greatness through song, dance, poetry/spoken word, percussion, and a diversity of language and expressions. Majestic Praise welcomes the young and young at heart to minister and praise in an innovative and profound way. Contact Nathan Bunce to find out more.
majesticpraise@churchofthevillage.org
Kairos Poetry Café
Kairos is a show and open mic on the 2nd Sunday of every month at 2 P.M. It features a wide variety of artists, including poets, musicians, actors, writers, painters, and more. Both new and established artists are welcome. Read your poem, tell your story, sing a song, play an instrument, bring in your art and share it at Kairos Poetry Café. If you aren't an artist but enjoy a good show, then join us as well. Everyone is welcome — there is no requirement to perform. Contact Alan Baxter for more information.